Most popular social applications now have a lite version. These applications are designed for low-budget phones with less memory and poor Internet connectivity.YouTube also has a lite version application called YouTube Go. In this article, we will compare YouTube Go and YouTube app.
Before that, let's begin to understand YouTube Go and why it was launched.
What is YOUTUBE Go?
Like other lite applications, YouTube Go is a simplified version of the regular YouTube application.
It is designed for first-generation Internet users who want to watch interesting and popular videos on YouTube without the interference that appears in regular YouTube applications. This application is focused on controlling data usage and making offline video sharing easier.
Therefore, both features are easy for users to access and do not hide under the settings. The redesigned version of the YouTube app eliminates all clutter and makes offline video enjoyable on Android devices/cell phones.
As part of the Android Go program, which includes applications such as Files Go and Google Go, the YouTube Go app will eventually be bundled on the phone with Android Go optimization.
The YouTube Go application requires the user's phone number to tell them which contacts also have YouTube Go installed on their mobile phone. If no phone number is associated with your Google Account, this is a mandatory step.
After signing up, the same phone number will be linked to your Google Account.
YOUTUBE GO VS YOUTUBE APP Features:
1. Only for Android
Unlike regular YouTube apps available across platforms, YouTube Go is only available for Android. It does not apply to iOS nor to PCs.
Android users can download this app from the available countries in the Play Store. If your country is not available, you can download it from the APKMirror website at any time.
2.  Watch video preview
YouTube is full of videos with misleading titles. Only after you watch 1-2 minutes will you realize that the video is fake. Thankfully, YouTube Go has solved this problem.
When you click on a video in the YouTube Go app, you start to quickly preview the video where you can view the content and quality.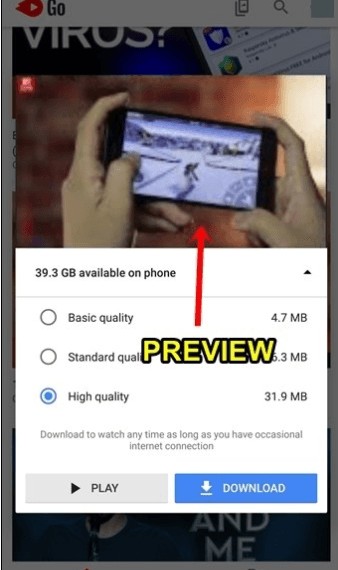 Based on this video snapshot, you can make an informed decision based on whether you want to play/download the video. In a regular YouTube app, you must watch the video to confirm its authenticity.
3. Download the video for offline viewing
While regular YouTube applications focus on online video, YouTube Go is designed for offline video. It allows you to download YouTube videos for free on your Android device. This feature is only available in a few countries where regular apps are available.
You can watch downloaded videos for unlimited times. However, these videos can only be accessed through the YouTube Go app when YouTube is encrypting videos on the device.
This means that videos will not be available in your gallery app, but you can still share them with your friends. More about the following.
4.  Check data and storage usage
YouTube Go is an application designed to reduce data usage. Because it was developed for regions with low connectivity and high mobile data prices, it can provide complete transparency about the amount of data consumed by the video.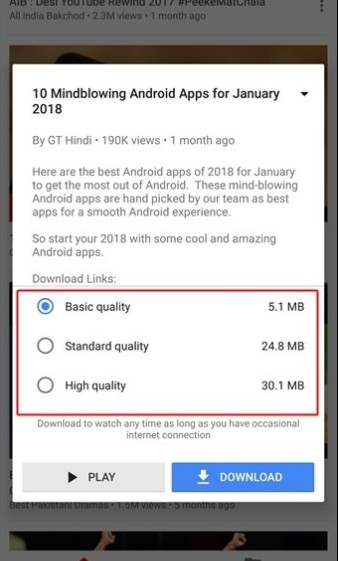 When you click on the video to play or download the video, it shows the available video quality and the amount of data required for each video quality. If you want to download a video to your device, it will also show the available space on your device.
Each time you choose from a variety of video formats, depending on the conditions of your internet connection and the amount of storage available on your device for off-line video.
Although the regular YouTube application displays the data needed to download the video, the same data is not displayed when the video is played.
5.  Offline video sharing
Although the YouTube Go app lacks online sharing of social media, sharing offline videos with nearby YouTube Go users is easy. This app only contains a few buttons, and Share is one of them.
Located on the top bar, this feature allows you to share YouTube videos you download with friends and family nearby without using any Internet connection. You can share multiple videos at once. The application uses Wi-Fi Direct and Bluetooth for data transmission.
However, there are two things to remember about sharing videos on YouTube Go. First, videos can only be shared among YouTube Go users, ie both senders and recipients should install YouTube Go on their Android phones.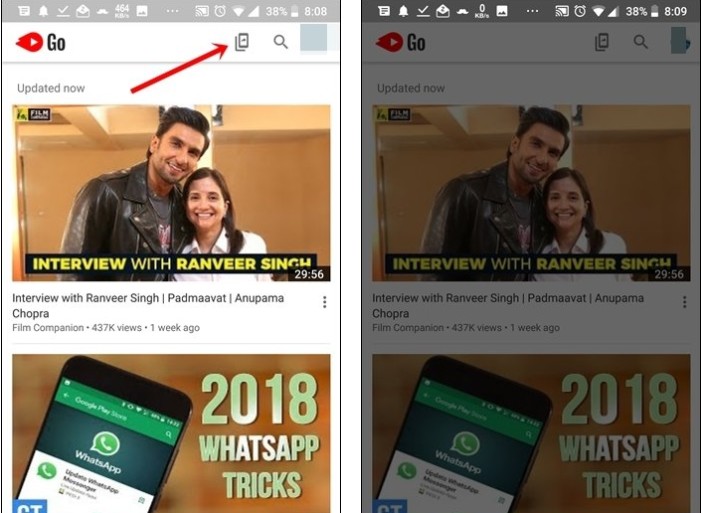 Second, for the first time, sharing video requires the Internet, which is a small part of the recipient's mobile phone for performing mandatory Internet checks. Mandatory inspection does not require a lot of data, it is only in the KB.
6.  Change the language
Another interesting feature of the YouTube Go app is language choices. You can select any navigation link in any language and application
Unlike regular YouTube apps that require a device language change to change the app language, the YouTube Go app comes with built-in language features.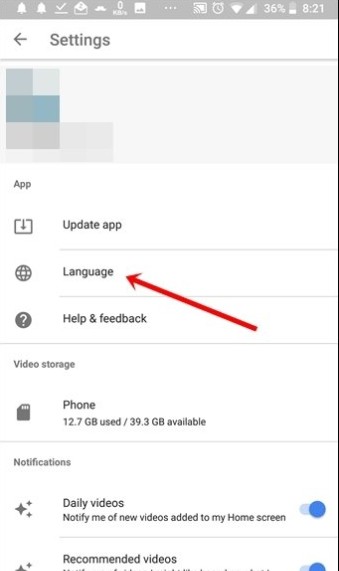 For example, if you change the YouTube Go language to Hindi, the app will display navigation links in Hindi without affecting your device language.
To change the YouTube Go language on your Android device, tap the profile picture icon in the top right corner, then tap Languages. Then select your preferred language.
What is missing?
The app is specifically focused on offline viewing and sharing. It lacks many basic YouTube features such as reviews, sharing to social media, subtitles, subscriptions and even channel descriptions.
Currently, it is not possible to directly access the YouTube channel. You just watch the recommended video or do a manual search.
Is it worth downloading?
Well, it depends on you. If you want a clean app whose goal is to let users watch videos without distractions, download videos for offline viewing, view data usage and easily share offline, the YouTube Go app is perfect for you.
Please tell us how you feel about the app in the comments below.